Bootcamp as Career Change Catalyst
You know how when you really start thinking a lot about a particular subject, you start seeing articles/posts/stuff about it everywhere? Well, I've been self-studying for a career change to web development for a while now, and struggling to get from "doing what I can at night, on my own" to "ready to hire". Being an Adult Person with House + Family means I need to do everything possible to set myself up for success. From hours of research and study, and picking the minds of those already established, that means (at the very least):
rounding out my education and experience
building a portfolio
practice working with a team
practice getting direction and assignments from an external source
practice interviewing and completing coding practicals
networking and branding (don't look at me like that – you know it's important)
local meetups and events
contributing to OSS
support with the job-getting process.
All of the posts, links, tweets, articles and conversations finally got my attention and I began researching bootcamps, their validity, strengths and weaknesses. Everything that I found led me to start seriously considering a bootcamp as the best way to kickstart my future. Luckily, I live in an area that has a strong tech scene, and a bootcamp just a couple of miles away. I believe that a backend/RoR bootcamp will round out my self-study and help with the much of the other tasks in front of me.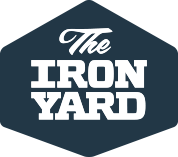 On the 4th of July (Freedom! Independence!), I wentdown to The Iron Yard for a 2+ hourinterview/information session. It felt like an excellent fit, and I was very excited to be asked aboard. They are currently in session with the 2nd cohort of RoR students, and I'll be in the 3rd, starting in October. TIY is a solid program, with strong connections to the burgeoning tech community in Orlando. They provide not only a comprehensive backend program, but also help with interviewing and job hunting. Combined with local meetups and events, restarting the local Orlando Girl Geeks group, and interview/coding/whiteboard practice, I'll be busy, but on my way. It won't be easy, but I'm already making plans – everything from the practical, "how do you fit this into a life" planning, to what I need to study to supplement/complement/enhance the experience.
Tags: backend, bootcamp, rails, theironyard